eToro offers an intuitive platform with beginner-friendly social trading features. However, it has limited assets offering, & upfront round trip fees.
eToro Review

eToro is a global trading platform founded in Israel in 2007. It offers a unique social trading experience and a variety of assets like stocks, ETFs, cryptocurrencies, and options. While eToro has innovative features suitable for beginners and those interested in social trading, there are limitations to consider. Let's explore its pros and cons. This eToro review provides a detailed analysis of what intending traders should know about this broker.
Pros
Social trading: eToro's features, like CopyTrader, allow users to learn from and copy experienced traders, benefiting newcomers to cryptocurrency.
Innovative platform: The eToro trading platform offers features that allow other traders to emulate top traders' strategies. Hence, these top traders earn rewards if others copy their strategy. This strategy is enticing for advanced traders.
Security: eToro uses security measures such as FDIC-insured bank accounts and offline/online crypto storage, ensuring user fund security.
Cons
Limited asset offerings: eToro's range of assets, especially in the US, is relatively limited compared to other platforms.
Higher fees: eToro Broker's charges are higher than many leading crypto exchanges, and its upfront "round trip" fee structure may not be ideal for some users.
Customer service limitations: Users can only contact eToro via a help ticket or online chat. A phone support option would have been better, as users can access immediate assistance when needed.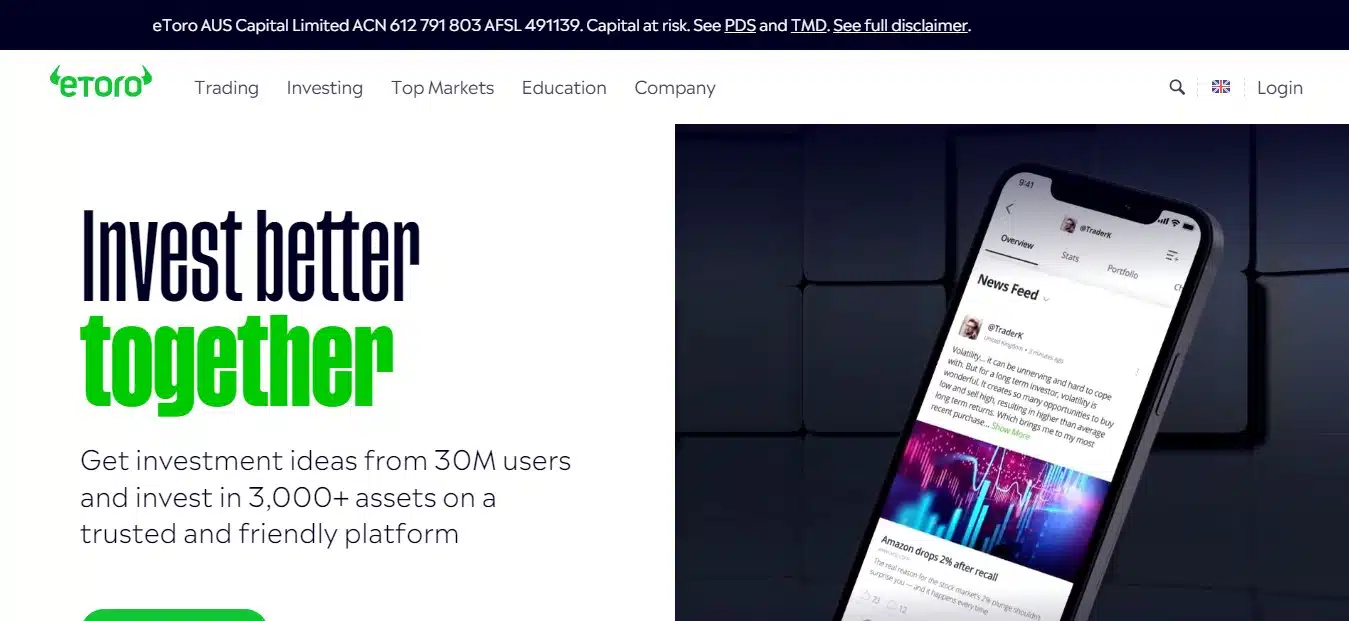 eToro Features
Below are some features of the platform that makes it stand out.
Usability
eToro has a user-friendly interface with a simple design, making it easy for users to navigate the platform. The app and website versions offer similar functionality, ensuring a seamless transition. However, the inability to short positions in the US limits trading strategies.
Seamless Trade Experience
eToro offers a well-aligned onboarding process and supports various financial institutions for easy deposits. However, the limited order types and assets may hinder complex trading strategies. The mobile app also offers an intuitive experience for beginners and experienced traders.
Variety Of Offers
eToro offers a diverse range of assets internationally, but the U.S. platform has more limited offerings. The absence of mutual funds, futures contracts, and forex may restrict some traders' preferences.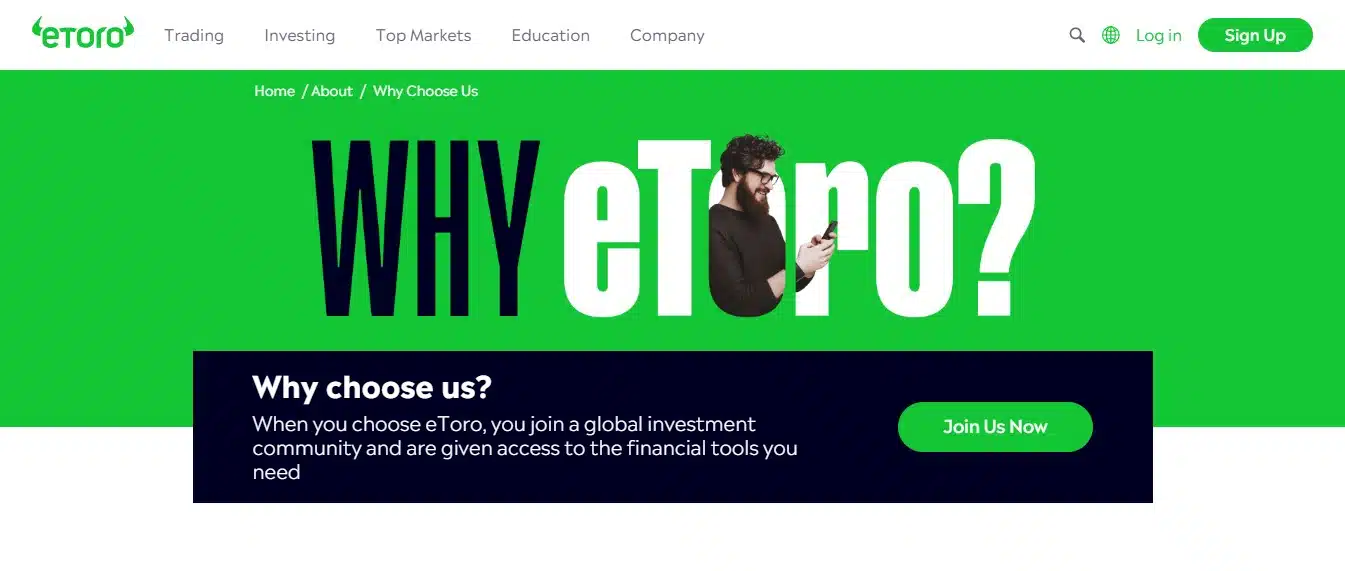 Order Types
eToro offers basic order types like market, limit, and trailing stop loss orders. However, it needs to support more sophisticated order types, limiting flexibility for advanced traders.
Trading Platform
While the platform doesn't disclose order execution statistics, eToro has an exemplary execution policy and low payment for order flow, indicating its commitment to order execution quality. The free demo account allows users to practice trading before entering the market.
Its Smart Portfolios provide automated and diversified portfolio options, which can benefit beginner investors.
Fee Structure
eToro's fee structure is straightforward but not the most competitive. Trading cryptocurrencies incurs a flat 1% fee per trade. Stock and ETF trading has no commissions but includes a spread fee. Hence, it's essential to consider these fees when trading.
Portfolio Analysis Tools
eToro provides essential portfolio analysis tools, displaying real-time performance data and visual representations of allocation. However, advanced features like in-depth analytics and portfolio rebalancing are yet to be available.
Resources
eToro offers educational resources like articles and videos for beginners seeking basic knowledge.
Customer Support
eToro offers support through help tickets and online chat, but most users need more direct phone support. This can be a drawback for those preferring immediate assistance.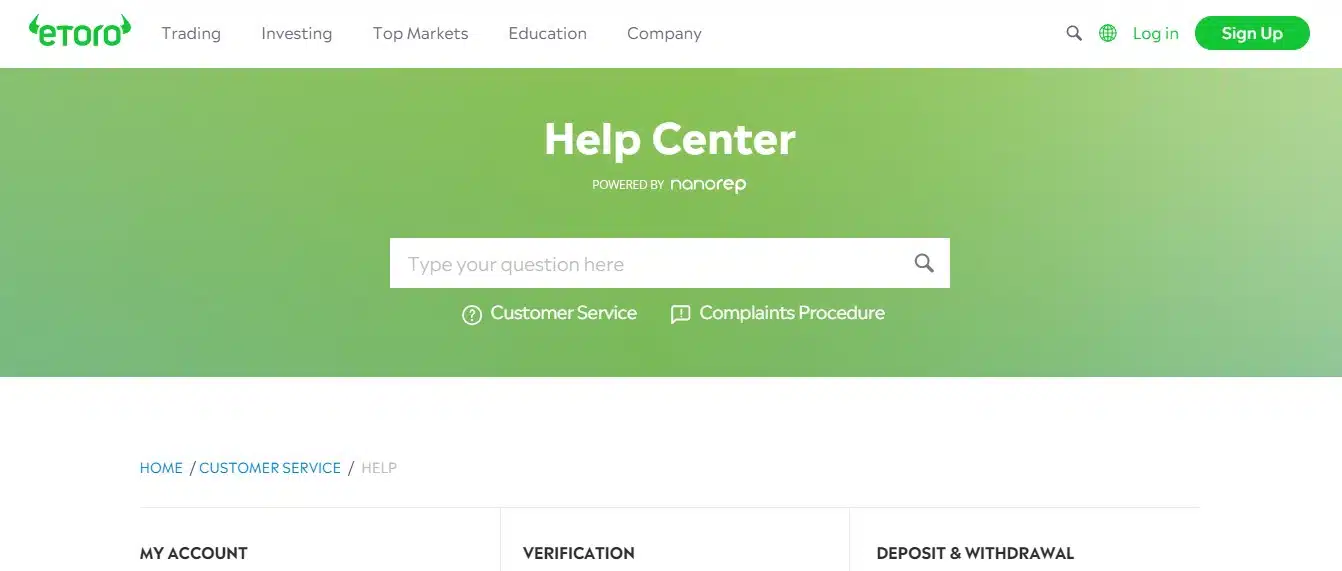 Security And Robustness
eToro prioritizes security with FDIC-insured bank accounts, offline/online crypto storage, and two-factor authentication. While no system is entirely immune, eToro has not experienced significant security breaches.
Account Types
eToro offers brokerage accounts for cryptocurrencies, stocks, ETFs, and options but lacks retirement or specialized accounts.
Conclusion
The etoro.com trading platform is user-friendly for beginners and those interested in social trading. It offers innovative features and a range of assets.
However, limitations in asset offerings, higher fees, and customer service may affect user experience. So, you must assess your trading needs and preferences to determine if eToro aligns with your requirements.
If you're primarily interested in social trading and learning from experienced traders, eToro's social features make the platform your best option. Keep in mind that any eToro scam links or content are for clickbait.
There are many positives from users about this broker's services